8 Design-Friendly Storage Solutions for the Bathroom
The secret to tidy towels and beautifully organized bottles? The right storage, of course. Sample this smorgasbord of ideas.
Brought to you by

Adequate storage is crucial to the success of any room, and the bathroom is no exception. In fact, we often overlook the need for storage in this much-used area or are challenged by the small dimensions of the space. But whatever the size or style of your bathroom, there are nifty ways to work in storage, whether it's built-in drawers around a bath, handsome shelves or vintage baskets.
1. Wire up. A wire shelf unit makes a great addition to a bathroom. It adds both storage and display space, brightens up a dull wall and is lightweight and easy to hang.
2. Squeeze in a drawer. A bathroom often contains little pockets of underused space. Think about exploiting them by building in neat little drawers. As many bathroom products are small, even a sliver of additional storage can be really useful.
3. Pack a basket. Baskets do vital storage work around the house and make a wonderful addition to a bathroom. The perfect vessel into which to heap towels, a basket will also bring a softly rustic note, warming up marble or a pale palette.
4. Add a side. Now this is clever! Any built-in bath unit contains dead space within its supporting structure, so why not convert it into storage?
This cabinet has a hinged side revealing slim compartments, which the homeowner uses to store slippers but which could equally handle washcloths, spare soap or bottles of cleanser.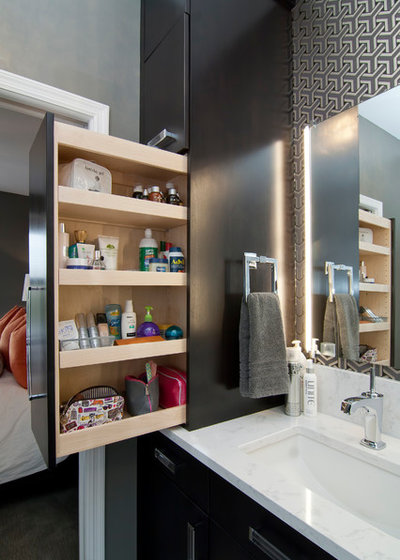 5. Pop in a pullout. Forget rummaging in the back of a cabinet for that tiny bottle of nail polish and opt for pullout shelves instead. This storage solution has long been used in kitchens, but it's perfect for a bathroom too.
This style of storage can be built into a narrow space (ideal in a small bathroom), and since most bathing essentials are fairly small, it's just the right size.
6. Float it. Wall-mounted storage, floating off the floor, keeps a bathroom looking light, and this space demonstrates an alternative to the solid vanity with sink and drawers often seen today.
Here, the sink and countertop are one integrated piece, with a storage unit installed just below. This creates lots of pleasing horizontal lines (rather than one block), and the surface of the drawers becomes an additional shelf.
7. Go big. This wall of storage perfection is like the bathroom equivalent of a walk-in pantry. Open shelves, clever compartments – it's all here. It's proof that, when well-organized, anything from toilet paper to hand towels can look gorgeous.
8. Take it to the top. If you have a spacious bathroom with a blank wall, capitalize on the vertical space and build in floor-to-ceiling storage. It can function as a closet or provide overflow storage for other rooms, and can easily hold all your bathroom essentials.
Related Links:
Originally Published: May 03, 2016