Enjoy the Peak of Spring Gardening – Here's What to Do in May
Bid the frost farewell and treasure the blooms. No matter what U.S. region you're in, one of these guides will help your garden flourish.
Brought to you by   

Traces of winter have all but disappeared by May; the last frost dates have usually passed and blooms are vigorously pushing forth into the fresh spring air. In warmer regions it's never too early to start planning for the dry summer heat; check irrigation systems and consider reducing lawn sizes.
Enjoy the bounty the May garden brings: Abundant roses and tree peonies perfume the U.S. Mid-Atlantic and Southeast regions, basil seedlings are sprouting in the West and South, and native perennials dot the Central Plains. Here's what's happening in your garden this May, by U.S. region.
Northwest. 'Now's the time to make sure your irrigation system is in good working order,' suggests landscape designer Genevieve Schmidt. 'As the days heat up, you'll be relying on it to provide your plants with water just as it's needed. To test, run each system manually for at least five minutes to make sure there are no leaks or no repairs needed. Leaks are usually obvious, with geysers of water and noisy splashes making the source apparent.'
California. 'Unless you're going into the pesto business, just a few basil plants should supply your summer needs,' notes garden editor Bill Marken. 'Warming weather is a great time to plant basil, but with so many different types available as nursery seedlings, what's best? To keep the choosing simple, trust your nose or taste buds. Plant what you like.'
Southwest. "Add flowering plants to attract pollinators to your vegetable garden," writes Arizona horticulturalist Noelle Johnson "Flowering plants such as cosmos, lavender, marigold, salvia and sunflowers not only beautify your vegetable garden, but they also help to attract pollinators for edibles such as beans,cucumbers, melons and squash.
Rocky Mountains. "Plant vegetables and tender annuals after the danger of frost has passed," writes Colorado landscape designer Jocelyn Chilvers. "Harden them off if they are coming from a greenhouse or home environment."
Texas. 'With another hot and dry summer predicted, it's a good idea to consider decreasing the size of your lawn,' writes landscape designer Jenny Peterson. 'We all want an area where our kids and pets can play, but lawn areas require copious amounts of water, fertilizers and labor to keep them looking good.'
Central Plains. "Shooting Star (Dodecatheon meadia, zones 4 to 8) is a 12-inch-tall sun-loving, wet-clay-loving perennial with the neatest blooms," says Nebraska garden consultant Benjamin Vogt. "Don't they look like shooting stars?"
Great Lakes. 'Bearded iris season begins in May,' writes Illinois garden coach Barbara Pintozzi, 'with the dwarf bearded irises early in the month, then the tall hybrid cultivars later. Reblooming irises, such as the white 'Immortality' and the purple 'Rosalie Figg', do double duty by blooming again in the fall.'
Northeast. 'Some sun-loving alpines push out blooms early,' writes Vermont landscape consultant Charlotte Albers, 'so try to divide overgrown clumps before the flowers emerge to limit damage to buds and stems, and keep other plants in check, making sure there's room to move about easily. Snip or prune rampant growth, so plants don't compete for limited water.'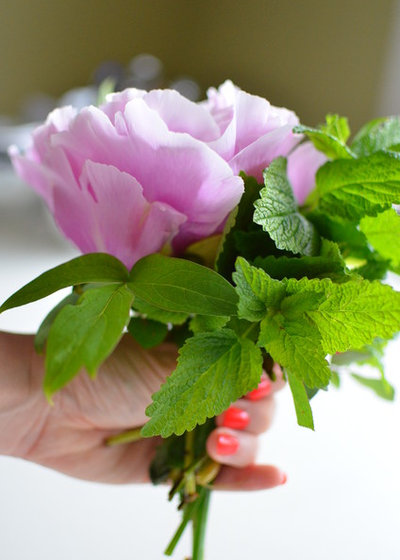 Mid-Atlantic. "Herbaceous peonies may not be in bloom yet, but their cousins, the tree peonies, are showing off already," says gardening writer Amy Renea. "Tree peonies boast even larger blooms than the perennial garden favorite and can be propagated by layering. Bring them indoors to create minibouquets in just a few minutes."
Southeast. 'Roses are in full swing right now,' says North Carolina gardening writer Helen Yoest. 'Let your roses flesh out; prune less in May so they grow taller.'
Related Links:
Originally Published: May 03, 2016