Myth-Buster: The Right Way to Test Paint Colors
Love rich colors? Some hues need a special ingredient to come out right. Plus: See what 5 pros say about where and how to test your paint samples.
Brought to you by

It's a common image: Someone selecting a wall color paints several sheets of paper or sample boards and hangs them on the wall to compare colors. It looks artistic and even a bit hip, but it may not be the most accurate way to vet wall paint and paint samples. We talked to five pros, including painters and designers. Here's what they suggest for paint swatches instead.
Paint Directly on the Wall
This is true for paint swatches for interiors as well as exteriors: You'll get the best sense of how the color will really look if you paint it directly on the wall. Each of the five pros we spoke with agreed. 'If they use a board, I feel like it just doesn't saturate the same way," says interior designer Keith Wardlaw of Plus Modern Designs in Kansas City, Missouri.
Kelly Porter, an interior designer in the Washington, D.C., area, explains the problem with using boards: 'The texture is really not representative. It's not the same as what's on your wall, and that can really affect the look," she says.
If you haven't yet narrowed down your selection to just one color, Porter suggests painting your paint samples choices side by side on the wall to see the differences. For some, this can be overwhelming to the eye; if that's you, make it easier by leaving some space between the paint samples. Also, keep in mind that the existing color of the wall will affect how the paint swatches read. Colors will appear darker against a light backdrop and lighter against a dark backdrop.
In this image, the colors are not samples, but intentional horizontal stripes in a finished room. The paint colors are Benjamin Moore's Arctic Blue, Palladian Blue and Blue Bonnet.
Tip: If you're hiring a paint company, see if it will provide free sample cans of the colors you're considering. Many companies do. Remember, once you've had the paint tinted (mixed), you can't get your money back. Even if you have to pay for them yourself, sample cans (typically $3 to $8) are well worth the expense.
Paint Two Coats
That's the amount of coverage you'll typically need on any wall. The second coat usually makes a big difference in the way the paint reads. Also, paint large swaths — at least 1 foot by 1 foot, and even larger is better. The 2-inch swatches won't give you a good sense.
Here, in a white room with white floorboards, the designer used a plain white base.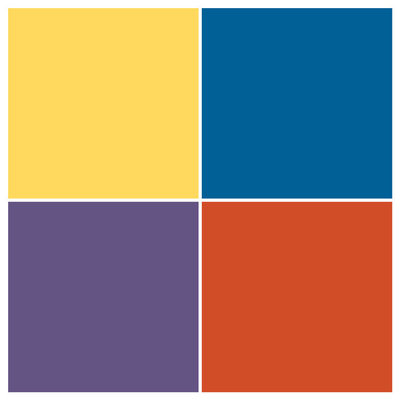 For Certain Rich Colors, Use a Primer
A small selection of deep paint colors can be created only in conjunction with specific primers. The paint deck will show which colors are in this category. (Pictured here are four by Sherwin-Williams, clockwise from top left: Lemon Twist, Hyper Blue, Daredevil, African Violet.)
For these specific colors, you probably won't be able to get a sample size in the paint, though you may be able to in the primer, says J.T. Trainor, owner of Freshcoat Painting, a paint company in the Phoenix metro area.
Paint Multiple Walls
The colors you're testing will read differently depending on the amount of light that hits them. 'We recommend you paint on a wall that doesn't get direct sunlight and one that does," Trainor says.
In this photo, notice how much darker the gray on the right side of the room is than on the left. In the photo of the orange room, the color appears much deeper at the back wall, where it is in shadow, and less intense on the left and right walls, where more light hits.
Also, landscaping outside a window can color the light streaming through it and change how a paint looks on the wall as well. In the previous photo, where the green trees can be seen through the window, they've tinted the gray on the right side of the room a greener hue. See it, in the corner?
As you view the colors, make sure you consider what time of day you'll most often be in the room. You want to like how the color looks at that time.
Place Lighting Before You Test
It's simple, but true: It's better to use the lighting that fits your needs than try to select your lighting to complement your paint colors. 'You wouldn't want to pick a lightbulb that looks good with your paint color, but you can't read in the room,' says Jennifer Ott, a San Francisco-based color consultant and interior designer.
Here, the overhead lighting is casting a yellow glow throughout the room, warming the color of the off-white paint toward a pale shade of honey.
Make sure your lighting is in place as you're considering colors. They may look quite different in bright bulbs that you prefer for nighttime use — or softer yellow-hued ones, if that's what you're going for — than they do during daylight hours. Having the right fixtures and bulbs in place can help you decide which shades will work for you.
If you're not yet sure what lighting you prefer, you can use the time examining your samples to experiment. 'Even changing out lightbulbs is a good thing to do,' says Carl Mattison, an interior designer in Atlanta. 'Like any color in the world — just like your eyes or your hair or your skin tone — things will change in different light.'
Here, the yellow light from the chandelier and sconces warms up the cooler white of the walls.
Related Links:
Originally Published: September 04, 2018